Introducing Kangen Water
Alkaline Ionized Water:
Health or Hype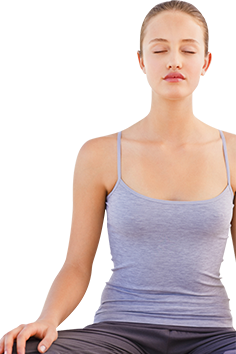 Finding the fountain of youth
It seems like every day there's another miracle cure hitting the market: a berry found hidden in the Amazon, or a tea grown only on the west side of a mountain in the Himalayas, or possibly a root's extract that can cure any ailment. And now, a device that transforms ordinary tap water into a fountain of youth.
If you're like most people, you may be a little skeptical or overwhelmed. That's okay! You've come to the right place: our website, IonizerResearch.com explores the exciting and rapidly growing world of alkaline ionized Kangen water. We take a critical look at the industry's leading water ionizers and provide consumer reviews to aid in your research process. But first, it's time to discover a little more about alkaline, ionized Kangen water.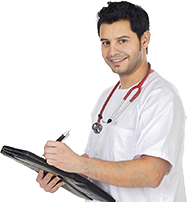 The Acid Equation
When it comes to pH (potential of Hydrogen), most people know more about why this matters in a pool or aquarium than in our own bodies. But did you know that our bodies are more than 70% water too? In fact, our blood is 83% water and has a very specific pH: 7.365. If our blood varies more than .1 pH from that level, illness and death quickly follow. Our body works constantly to maintain that pH balance.
The food we eat and water we drink has a pH, too.
Here are a few common examples: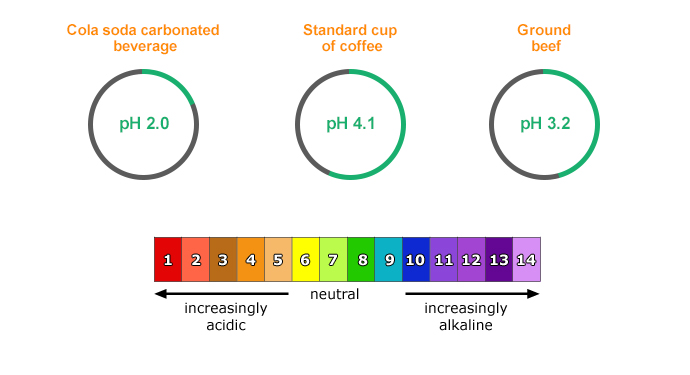 So the critical question is this: if 90% of the average American diet is made of acidic food and water, how do our bodies manage and dispose of all this acid? Of course our bodies have ways to
Respiration
the average person gets plenty of fresh, clean air each day
Perspiration
the average person gets plenty of cardio exercise each day or performs manual labor to the point of exhaustion
Urination/
Defication
the average person has an finely-tuned digestive system that processes and eliminates everything not required to live a healthy life
Oh wait! We must be describing the lifestyle of some other nation, possibly that of Japan or Korea where the healthy life expectancy is off the charts!
Although not through ideal procedures, our bodies do have a way of dealing with all this acid: neutralization. The body plays a clever trick and leaches (removes) calcium and magnesium (alkaline minerals) from our bones to help offset the over-acidification. Even worse, the acid that can't be eliminated or neutralized is stored as solid waste.
pH Balancing & Hydration
According to the functional theory by many acclaimed research scientists and medical doctors, all diseases can be traced back to two simple problems:
| | |
| --- | --- |
| Dehydration | water is the fluid of life. When we become dehydrated, we reduce our body's ability to process nutrients, vitamins and minerals. Further, we starve the body of the fluid by which it cleanses and detoxifies the organs and blood, leaving toxins running rampant in our bodies. |
| Over-Acidification | our bodies prefer an alkaline environment. When acid builds up, it robs every available resource to maintain pH balance. Excess acid is stored in the body and slowly poisons us over time. |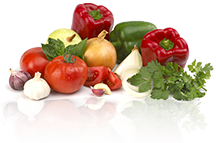 In an ideal environment, we each would have plenty of fresh air and physical activity, as well as a diet that consists of green, leafy vegetables, unrefined "whole foods", and plenty of fresh, pure water to wash it down. Living like this would help keep us pH balanced and processing foods and expelling wastes. Through good nutrition alone, it is possible to maintain a healthy and disease-free lifestyle.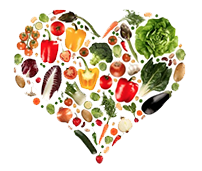 You Are What You Eat (and drink)
An examination of the diet of countries that rank highest in overall wellness, lifespan, "healthy" life expectancy and low disease rates yields a common result: the people in these areas eat lots of green things. Uncommon, however, is what they drink: water is the key beverage. Further, the local natural water is much cleaner than water in America, without many of the harmful chemicals found here.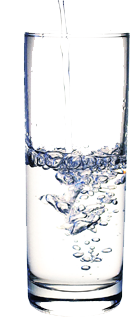 A Return to Origin: Alkaline, Ionized Water
First, let's establish that there is presently no one thing anyone can do to live a perfect, healthy life. There is no one-size-fits-all solution to this equation. However, most complementary health experts (and many mainstream doctors) now agree that the best place to start it by drinking alkaline water.
In the early 1950's, two Russian scientists discovered a way to split a stream of water in to 2 parts: one acidic and one alkaline. The process used a series of magnets to create an electrolysis procedure. The result? Negatively charged "ionized" water that is mineral rich, restructured or "reduced" for enhanced absorption and hydration, and full of free-radical fighting anti-oxidants. It tastes great, feels great, and does wonders for your body! It's no wonder why the healthiest countries on earth have an alkaline water ionizer in almost every kitchen!
But What Does Alkaline Ionized Water Do?
We've heard countless testimonials over the years from people claiming all kinds of amazing health benefits from drinking alkaline, ionized water. And while we believe many of these stories, the only way to truly know the potential is to try it for yourself. However, we will tell you why we believe ionized water is so miraculous: for us, we've experienced many benefits that we attribute as follows:
It's Super Hydrating! If our bodies are fighting to stay alkaline and we drink acid water, the body will be unable to benefit from it. It will simply flush through the system, taking many alkaline minerals with it. With ionized water, you can now drinking mineral-rich water that the body craves to stay hydrated. Ionized water doesn't sit in the stomach and slosh around feeling heavy and bloated: it's absorbed quickly, routed to the cells and pulled through the skin as perspiration; that's the hydration equation!
It's Full of Anti-Oxidants! Oxidation is aging, just like a nail oxidizes and rusts. Ionized water is made by an electrolysis procedure leaving the water negatively charged. A free-radical is a positively-charged hydrogen ion running a muck in the body. With ionized water, feel younger, have more energy, don't get hung over and sleep like a baby!
It's Great for pH Balancing! It's not easy for us Americans to follow an alkaline diet, especially with our fast-paced lives. And even so, dietary preferences and personal taste still cause us to eat acidic food: Now, with alkaline ionized water, it's easy to neutralize the acidity of our favorite foods just by drinking the clean, delicious water.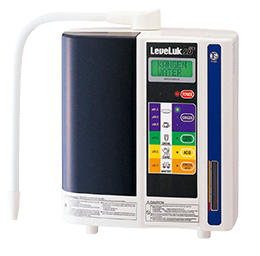 What does "Kangen" (pronounced kang-ghen) Mean?
Kangen in Japanese translates to "return to origin". Kangen Water is the brand name given to alkaline, ionized water produced by the Enagic water ionizer. There are many devices that create alkaline ionized water, including Enagic's multi-level marketing driven SD-501 water ionizer. This website reviews the leading brands of water ionizers, including the Enagic Kangen water ionizer.
Discover it for Yourself
In our opinion, the success stories of alkaline water ionization are true for one simple reason: a water ionizer is a device that produces an abundant supply of the most hydrating water on the planet. We believe dehydration and acidity are at the core of every illness and disease. Many people ask if alkaline water can help with specific ailments. Our answer? We don't know! If the ailment can be linked back to toxins, over-acidification or dehydration, then we'd say a water ionizer is a great place to start. But either way, the truth can only be discovered from your own personal experience. Fortunately, many water ionizer manufacturers offer a risk-free trial so that you can determine for yourself the benefit alkaline ionized water will have in your life.

We're Here to Help!
As with any new and rapidly expanding industry, the ionized water business is evolving and maturing day by day. A water ionizer is a relatively costly investment, and deserves a fair amount of attention and research so you can make an educated decision. IonizerResearch.com does a great job of identifying the top water ionizers in the industry and rating them in a good, better and best format so you can find the best water ionizer for your budget. Feel free to take full advantage of our vast experience, research notes, comparison videos and live chat. If you don't catch one of us online, leave a message and we'll get back to you at our first available convenience!
Check out the following videos from TyentUSA and Jupiter
(now AlkaViva) for an intro to alkaline water: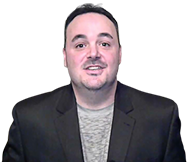 3 Tips to Becoming a Dealer—My Story
Ever think about selling water ionizers? Wondering if there is money to be made? The truth is...
Read More
Ionizer Questions?
Call us: 1-877-878-7220

Remember: We Work For You