Company Overview
Tyent USA UCE 11-Plate Series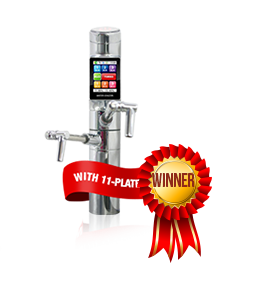 PROS

Tyent kept the same gorgeous designs (that fit any kitchen style), but added 2 additional mega-plates. Wow! The pH and ORP levels are off the charts on these units. Plus, the flow rate is unbelievably fast…we have never seen anything like it. If you want to get excited about a water ionizer, then go for one of Tyent's 11-plate units. With Tyent's lifetime warranty and reasonable price tag for a machine of this caliber, you will have no regrets.

CONS

Not for the budget conscious. But for those that want the best of everything without compromise, look no further.

BOTTOM LINE

Tyent's 11-Plate Series packs super water ionizing power into 2 great-looking and easy-to-use packages. The company has an A+ rating with the Better Business Bureau and they offer a lifetime warranty without fine print. If you can afford it, buy it! It's that simple!